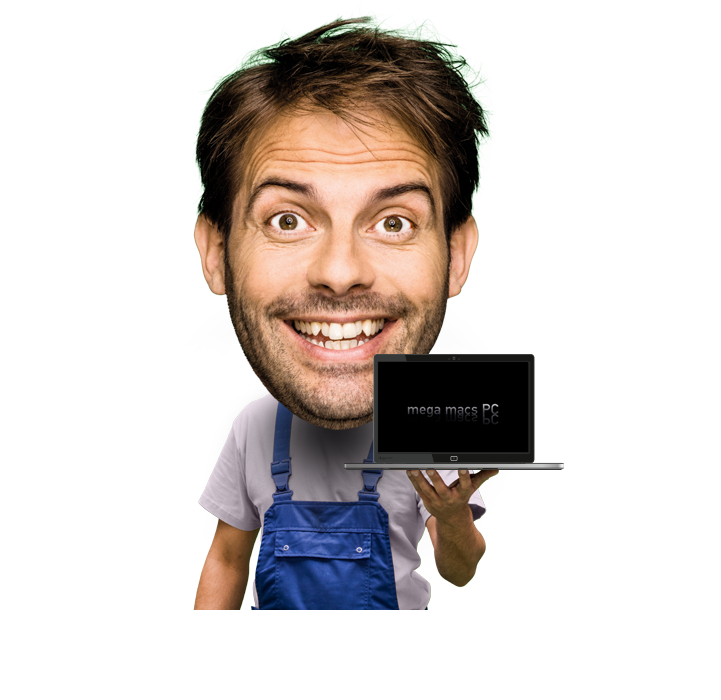 HGS Data
Knowledge is power. More knowledge means more profit.
Flat-rate access to vehicle data for more than 35,000 models
Which steps must be observed as part of an extensive service? Where can you find components and how do you disassemble them correctly? How exactly should repairs be carried out so that they comply with manufacturers' specifications? Why does a certain motor always stutter when it rains? HGS Data always has exactly the right answers to these and thousands more questions.
Up-to-the-minute technical data
Many practice-oriented tips and tricks
Service schedules of all important brands
Pay once and enjoy constant access
Flat-rate data for over 35,000 vehicle models
HGS Data is your indispensable, interactive knowledge database for everyday use. It is one of the biggest in the world and pays off from the very first day. It provides you with fast, clear access to vehicle data, technical information and, of course, many useful tips and tricks, compiled for you by our experts from hundreds of thousands of support enquiries and solutions offered by other workshops. This is how everyone in the extensive Hella Gutmann family helps each other.
And the best thing of all is that Hella Gutmann offers all this without restrictions at a monthly fixed price. It's a breeze to set up – with an HGS Data licence, you are given complete access to all technical data, wiring diagrams, repair tips and much more. And to ensure that more than one person can use it at the same time, just one licence allows access for three users. This means full access three times over at one monthly price, with no additional hidden costs.
Jetzt loslegen
Noch kein HGS Data Zugang? Dann jetzt registrieren!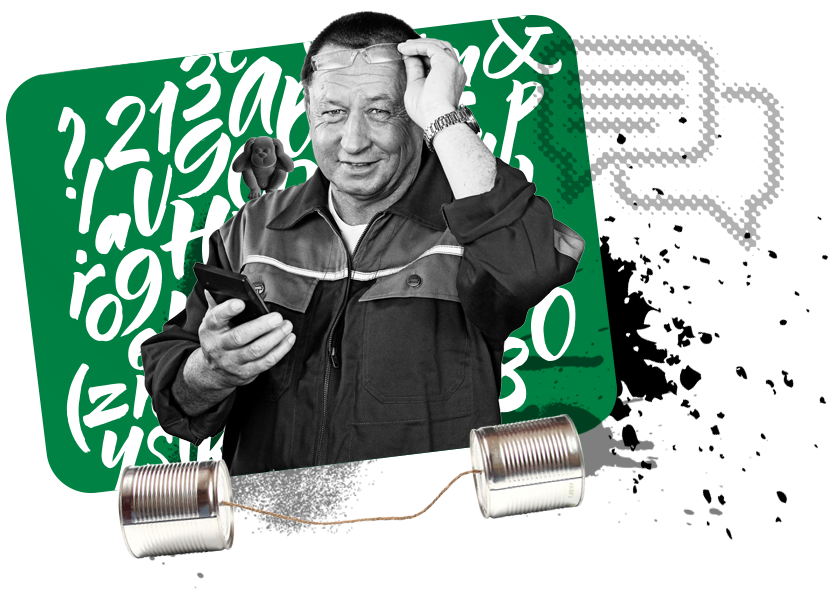 With HGS Data, I have finally found a fair solution that supplies me with the most up-to-date information on every vehicle. The precise instructions, along with the many images and drawings, really help us save time.
Diagnostic database
Rapid repair thanks to symptoms-based troubleshooting
Endless troubleshooting is a thing of the past. HGS Data provides symptoms-based proposals for solutions directly on the screen. The most common fault reasons can hence be excluded step by step and the fault can be detected and repaired in an instant. If the problem is still proving difficult to solve, however, our Technical Call Centre is just a single phone call away. With a call licence, you are given access to market experts who will provide you with clear personal assistance over the phone.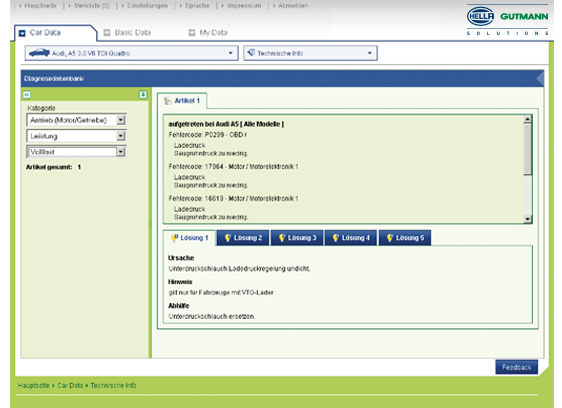 Technical data
On familiar terms with every model
Today, diagnostics and repair work on modern vehicles is almost impossible without the latest technical data. HGS Data delivers all the relevant data for more than 35,000 vehicle makes and models, and this number is constantly rising! The clear overview and the intuitive user interface, which corresponds to the one used in our diagnostic tools, helps workshops perform repair work more effectively.
The range of technical data comprises all the relevant areas such as engine, engine cooling, engine control, electrical systems, wheel alignment, brakes, tightening torques, filling quantities or toothed belt data.
Thanks to detailed plans, servicing can be carried out exactly in accordance with the manufacturer's specifications. HGS Data provides the inspection schedules for all components that are subject to service, including the connection to the TecDoc-based parts catalogue with all the relevant information on the required part.
With the integrated print function you can print out either complete or single data records.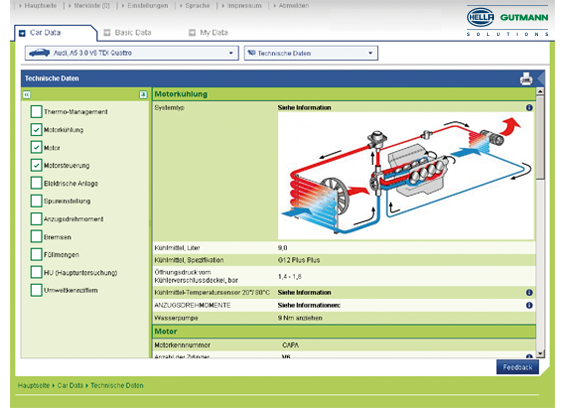 Parts dialogue
All component information at a glance
The parts dialogue is an essential tool that helps you save time and costs. All you have to do is click on the diagram to gain rapid access to all the necessary data available for a part. This makes TecDoc catalogue information, parts help or wiring diagrams easily accessible. It's the fast track to getting a complete overview of the part you're looking for.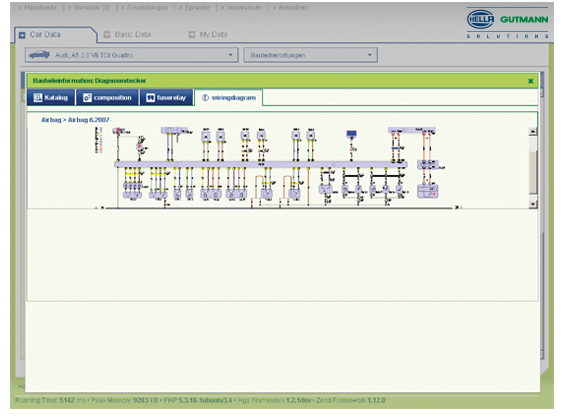 Recall campaigns
Stay in touch with your customers
Provide active support for your customers by making them aware of current recall campaigns by manufacturers. HGS Data stores all recall campaigns from the past 18 months and supplies you with a quick overview of the technical backgrounds.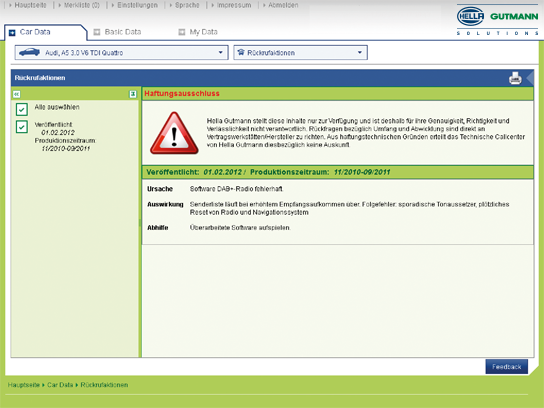 TecDoc checklist
Your shopping list at the touch of a button
With a direct connection to TecDoc data, you can save all the spare parts required for each repair in a list and print it out. This helps you to make even quicker progress.
HGS Data flat rate
Application
The HGS Data flat rate is a browser-based solution and can be used on every web-enabled computer with Firefox, Internet Explorer, Google Chrome or Safari. Registered users also benefit from unrestricted access to the vast diagnostic database should they want to use another PC or even an Apple iPad.<br/><br/>The intuitive mega macs 66 menu guide was the model for the HGS Data navigation structure. The simple menu structure enables even inexperienced users to navigate the complex world of data and repair information.<br/><br/>An indispensable feature is that potential fault causes can be checked step by step and therefore systematically localised thanks to symptoms-based troubleshooting. HGS Data also includes valuable information on repair work based on practical experience straight from the workshop.<br/><br/><br/>Performance
Symptoms-based troubleshooting
Parts dialogue with information on the selected part
E-mail cloud for maintaining the requests
All recall campaigns at a glance
TecDoc checklist
Overview of the last 10 processed vehicles*
Technical data on more than 35,000 models
Service schedules of all important brands
Coloured wiring diagrams in pin-sharp resolution
Fuse/relay box images
Component test values with additional information
Exhaust emission data


And much, much more<br/><br/>
* The tool will save vehicles for which the licence plate number is entered.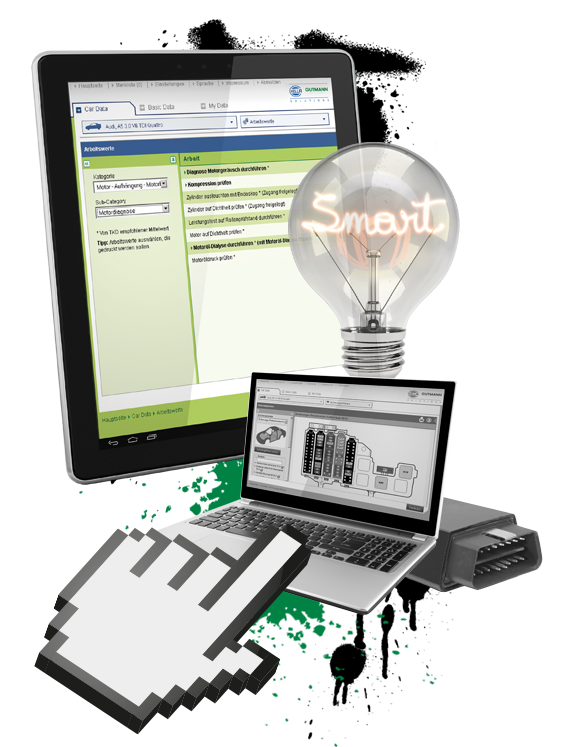 HGS Data supplies you with valuable information in the following ways:
Any questions?
In our FAQ, we answer all your questions to help you discover Hella Gutmann's world of solutions.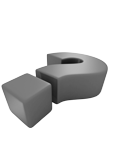 FAQ
Careers
We are always on the lookout for bright minds to join our team. Apply to work with Hella Gutmann Solutions today.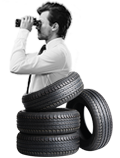 News
In the newsroom, we bring together all the latest topics relating to the world of Hella Gutmann Solutions.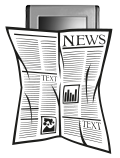 Newsroom